Accountability Music Awards
The Accountability Music Awards recognise African musicians and artists whose music supports the fight against corruption in Africa.
2021 Winner: Winky D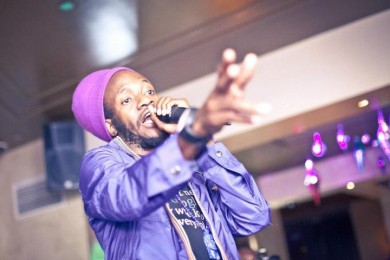 Wallace "Winky D" Chirumiko is a Zimbabwean reggae-dancehall artist popularly known as The Big Man. His love for reggae music started at a very young age. As a teenager, he competed with other artists at the Ghetto Lane Clashes, where he gained popularity and the name Winky D from his fans.
Considered a Zimbabwean dancehall pioneer, Winky D has released 11 albums featuring many top chart hits, such as "Rasta," "Head Inna War," and others. He's worked with musicians including Jamaican dancehall legend Beenie Man, and has performed alongside artists like Black Coffee and Kay Mack. In 2020, he was named Best Dancehall Artist at the African Entertainment Awards United States of America (AEAUSA), and in 2021, he won an award for Best African Dancehall Entertainer at the 2021 International Reggae and World Music Awards (IRAWMA).
Now, he's closing out 2021 as the winner of the Accountability Music Awards! He's following in the footsteps of previous winners, like Lagos-based musician and 2019 winner Chioma "Cill" Ogbonna, as his music continues to further the fight against corruption in Africa.
Watch the 2021 Awards Ceremony
The Accountability Music Awards celebrate musicians who are using their music to support transparency and accountability around the world. We all love great songs, but what's better than listening in and also knowing you are supporting artists who are changing their countries for the better?
We care about this because transparency and accountability really matter. When money meant for health clinics goes missing, or drugs meant for patients are stolen, people die. When funds allocated for education go astray or are mismanaged, children cannot learn. This perpetuates suffering, poverty, and inequality. That's why we support and celebrate singers, musicians, DJs and producers who are using their voices and music to raise awareness about these types of problems.
The Accountability Music Awards is a joint project of Accountability Lab, the African Union and ONE.
The Accountability Lab makes governance work for people everywhere by supporting active citizens, responsible leaders and accountable institutions. We are reimagining how to build accountability to support a world in which resources are used wisely, decisions benefit everyone fairly, and people lead secure lives.
ONE is a global movement campaigning to end extreme poverty and preventable disease by 2030, so that everyone, everywhere can lead a life of dignity and opportunity. We believe the fight against poverty isn't about charity, but about justice and equality.
The African Union (AU) is a continental body consisting of the 55 member states that make up the countries of the African Continent. The AU is guided by its vision of "An Integrated, Prosperous and Peaceful Africa, driven by its own citizens and representing a dynamic force in the global arena."